11/11/2011
Hungry eyes: JMU spotlights growing problem
From: Public Affairs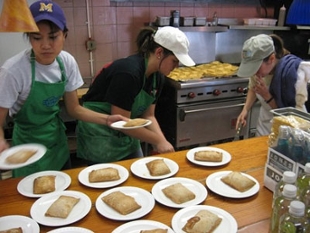 A previous JMU Alternative Break Program team works at Cafe 458 in Atlanta.
The face of hunger is forlorn, often frantic, at times unflinching. It is also increasingly familiar.
Three years after the onset of a crippling economic crisis, 1 in 6 people in America is struggling with hunger, forced to go without food for several meals or even several days. And the problem is no longer confined to small pockets of society, certain areas of the country or the bad sections of town. It is everywhere, and it is growing.
In the Shenandoah Valley and surrounding regions, more than 10 percent of residents can't take their next meal for granted, according to the Blue Ridge Area Food Bank, which is presently serving 104,000 people a month through a network of distribution centers in western and central Virginia. Among those, 4 in 10 are children.
The face of hunger is not always easy to spot. "They look like you and me," said food bank CEO Lawrence M. Zippin. "They're not homeless derelicts. They're our neighbors. They're the people we sit next to in church or a co-worker who skips lunch. They're the working poor, middle-class families dealing with the loss of a job, elderly men and women losing ground to rising medical costs, and schoolchildren on free or reduced-cost lunch who don't look forward to the weekend because they aren't guaranteed a meal."
James Madison University is helping tackle the issue of chronic hunger, both at home and across the country.
This month, the JMU-Blue Ridge Area Food Bank partnership is hoping that local residents will be moved to action when "About Hunger & Resilience," a traveling exhibition of photographs and audio recordings, comes to the Prism Gallery at JMU's Festival Conference and Student Center. The exhibit, which runs from Nov. 17-Dec. 2, features the work of nationally acclaimed artist Michael Nye, who spent more than four years traveling the country, listening to people struggling with hunger.
Corinne Diop, a professor of art at JMU who will participate in a Nov. 16 panel discussion on hunger to kick off the exhibition, said pairing each black-and-white image — shot using an 8 x 10 view camera with analog film — with an audio recording of the subject's story makes for a compelling exhibit, and those who experience a deep emotional connection with it are encouraged to make a contribution to the Blue Ridge Area Food Bank to help eradicate hunger in our community.
"A criticism with these types of exhibits is that the photographer oftentimes will take the pictures and get all the glory, and then they don't do anything with the issue," Diop said. "These images would certainly hold on their own, but Nye is taking it a step further. He's saying, 'you're looking at my images and hopefully you're moved by them, and now here's someone with the local food bank to tell you what you can do with those feelings.'"
Locally, JMU contributes to the cause during the school year through hunger-relief drives and awareness campaigns like the Hunger Banquet, a world-in-miniature meal during which some guests feast in developed-world style while others are given bowls of rice and dirty water.
During their upcoming Thanksgiving break, a group of 10 JMU students and staff will forgo time with family and a home-cooked holiday feast to travel to Atlanta, where they will spend part of the week volunteering at Cafe 458, a restaurant that provides sit-down meals and support to residents dealing with hunger, homelessness and other issues. JMU has partnered with the restaurant and its sister agency as part of the university's Alternative Break Program since 2006.
Student trip leaders Josh Mlynar of Virginia Beach and Christopher Shockey of Lonaconing, Md., say the experience is intended to serve as a reminder that in this season of giving thanks, many people are still struggling with the most basic of needs.
"I associate Thanksgiving with home, family and being thankful, and I wanted to choose an issue that ties in with those things," said Mlynar, a 22-year-old graduate student in education who works as an administrative assistant in JMU's Community-Service Learning office. "So I'm excited to gain a new perspective."
For Shockey, a senior double majoring in hospitality and tourism management and accounting, the trip is "a reminder to myself of how good I have it, and that I have to put work and effort into helping other people."
Related links:
JMU Alternative Break Program, http://info.jmu.edu/csl/alternative_break_program.php
Blue Ridge Area Food Bank, http://www.brafb.org
"About Hunger & Resilience," http://www.michaelnye.org/hunger/abouthunger.html
# # #
Nov. 11, 2011